WebGL is needed for this game to work.
It looks like your browser does not support WebGL or that is has been switched off.
Please try again on a computer with WebGL enabled.
Read more about WebGL on
Wikipedia
or
Mozilla
.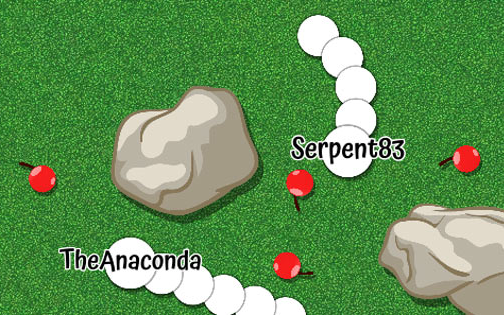 How to play
You only need your mouse to control the snake. Point at the spot where you want the snake to go.
Avoid hitting the rocks, your own tail and other snakes.
Pick up cherries to grow.
Be careful if you go outside the arena. You will take damage and this will cause your snake to shrink and ultimately die.
Click to boost the speed for a few seconds. Your snake will shrink when doing this.
Feedback
If you have any suggestions or other kind of feedback, contact me by Twitter or Facebook.
The future
Quite a few features are planned for SnakeRoyale. First of all, the basic game have to be released and polished to make sure as many people as possible all around the world can enjoy the game. After this more advanced features will follow.
Follow SnakeRoyale on Twitter or Facebook to stay updated on the progress.
Credits
Privacy
No Personally Identifiable Information is collected or stored in any way by SnakeRoyale.io when playing anonymously.
SnakeRoyale uses third party cookies to analyse site traffic.